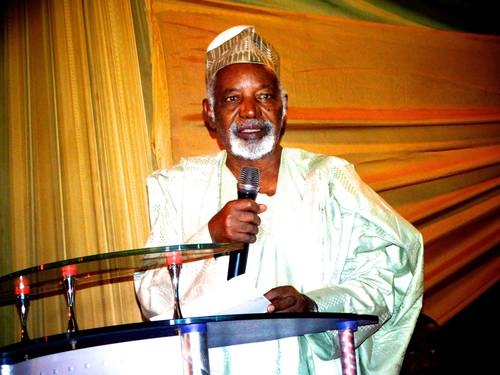 larabe Musa, the first civilian Governor of Kaduna State has said the death of Gani Fawehinmi six years ago has left a great vacuum in the struggle for the advancement of liberties and democratic development of Nigeria.
Mr. Musa served as the first civilian Governor of Kaduna State from October 1, 1979 to December 31, 1983.
He made these remarks at the 6th Annual Memorial lecture organized by the Gani Fawehinmi Memorial Organization (GAFAMORG), held in Akure, the Ondo State capital, in commemoration of the legacies left behind by the late iconic lawyer.   
He described late Gani Fawehinmi as "everyone's quintessential lawyer."
According to him what Nigerians can do, either as an individual or group, is not only to constantly honor the memory of late Fawehinmi but strive to emulate his great and patriotic example.
"Emulating Gani's example and standing up to his ideals are particularly important these days when political opportunism, cynical demagoguery, and the "change phrase" mongering are becoming the order of the day.
"This demagoguery is threatening to replace genuine advocacy for progressive democratic development with rhetorical radicalism and high-wing self righteousness," he said.
The former Kaduna State governor commended the late legal luminary for devoting his entire life to the advancement of the civil liberties and democratic development of Nigeria as a country.
Musa said such devoted lion-hearted spirit was demonstrated nowhere else than in his chosen career as self-tutored lawyer.
"The late Chief Ganiyu Oyesola Fawehinmi was such a frontiersman, indefatigable in his struggle, energetic in the pursuit of his objectives, and compassionate in his commitments; Chief Fawehinmi was everyone's quintessential lawyer, political activist and human rights advocate," he said.
He observed that nowhere has his legacies been more enduring than in his defense of civil and democratic freedoms.
"This in particularly has manifested in the area of freedom of association and the development of multi-party democracy in the county" he retorted.
The elder statesman maintained that Gani Fawehinmi, as a humanist, knew the importance of education as it was the bedrock of material and human progress.
"He was an irreproachable advocate for free education and used his personal resources to grant scholarship to many indigent students."
He recalled during the dark days of military dictatorship in Nigeria, late Gani Fawehinmi was one of the few lawyers to constantly challenge the arbitrary and opposition dictates of successive military regimes.